---
---
Amateur Related Links
---
Contact Us
---
DARC Net Information
---
FCC Amateur Radio License Renewal
---
FCC License Testing
---
Field Day 2017
---
HamFests
---
Meeting Information
---
Membership Application Form
---
Membership Information
---
Memphis Area Repeater Frequencies
---
Presentations
---
Public Service Events
---
Silent Keys
---
Solar Conditions
---
Sparks Newsletters
---
Training Classes
---
W4BS Repeater System
---
W4BS Repeater Rules and Etiquette
---
YL News
---
2018 Board of Directors
Welcome to the web site of the Delta Amateur Radio Club!



Delta holds monthly meetings, offers formal training classes for all three amateur radio licenses (Technician, General, and Extra) and informal training sessions on all aspects of amateur radio, supports public service events, provides five VHF/UHF repeaters, hosts a nightly information net, publishes a monthly newsletter, participates in Field Day each year, and, perhaps most importantly, fosters the amazing camaraderie of the ham radio community.


We welcome to our club meetings all hams, anyone with an interest in becoming a ham, and anyone with a curiousity about ham radio. The club meetings are held on the second Tuesday evening of the month. See Meeting Information for meeting time and location.

---
Solar Conditions and HF Propagation
Courtesy of Paul Herrman, N0NBH, Solar Data Banners & Widgets.

Note: if the current date (shown above) doesn't match the date in the box, refresh the screen.

Courtesy of Paul Herrman, N0NBH, Solar Data Banners & Widgets


Visit What's up in space to learn if solar conditions may be affecting propagation.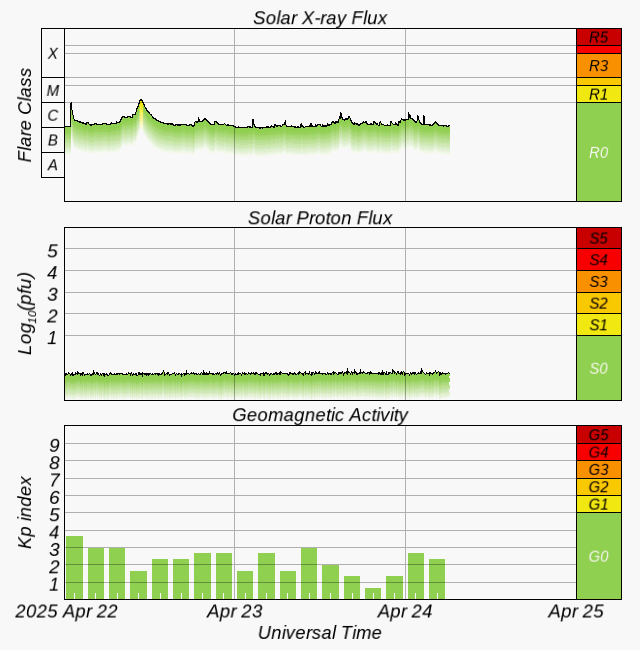 This is the Space Weather Overview. Go here to see the full Radio Communications Dashboard.



See NOAA's Real Time Solar Wind conditions.